Well, we have an iPad ladies and gentleman. I have been looking forward to getting my hands on one since last year and I do have to say that after about a week with it, I am very happy. It definitely facilitates my workflow. I have downloaded a few apps to test out just how capable they are in this filmmaking journey.
Today I wanted to test out a few different methods of making quick storyboards on the iPad and really see just how practical it was to create and communicate my ideas because practicability was one of the main reasons for getting one.
I first used Upad only because it was already open. It is a nice note taking app that recognizes your handwriting. I bought a stylus and have been messing around with it. I definitely recommend upad. I like it do far. I can draw thumbnails very easily, but it isn't a drawing app and doesn't have many of those features. I like the fact that I can email the page with my handwriting. I know that Evernote (an awesome cataloging app) can read handwriting and will be exploring using them together.
Next came Clip Sketch app from Celtx. We have recently come to use Celtx. They make a quality pre-viz for the desktop. I cannot say the same for the ipad app. It might be good to use for basic over head diagrams for floor maps or something. I didn't like the drawings really, the characters seemed a little too cartoonish too me. I did however, liked the overhead drawings of camera crew equipment.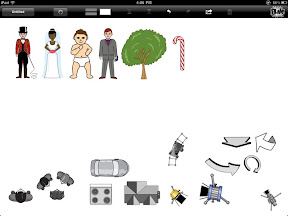 I had read about a cool little app called storyboards a few months ago when I started some iPad research. It had intrigued me from the video I saw, it had a large library (characters, props, etc.) that you could manipulate easily. I found the free version to tryout. It was cool and simple enough to use. The only problem was the speed at which it renders. It was terribly slow, to the point of frustration. Hopefully they will fix all that in the coming updates. It does dish out some nice boards with having actually drawn one element.
Last I tried drawing with sketchbook express first mainly because I use the desktop version with my cintque in the studio and I love it and I found that the the iPad experience does meet up to my expectations but only barely. I think the controls are a little hard to navigate through. But I am sure after a few more tries, it will be easier. I definitely like the possibilities it offers. I am going to upgrade the app.
I think I'll be using sketchbook to draw and maybe bring them into Upad to make notes. This will be an ongoing process as I find new tools to work with on this iPad. Oh and by the way. I made this post completely (pictures, text and all) right from my iPad as I watched the Masters, while sitting on my bed. Pretty cool I think.
This week coming up we will Be trying to storyboard the shots for Gasmask. So I'll post up some of the work Rodney and I do next week.
Pabs