Today we did our first script reading for Gas Mask. I set up shop in the dining room and got a video feed up via ichat on the laptop for Chris to join since he is in Chicago. We also set up the HVX on a tripod to tape the whole thing. That way we can watch it again this week and take even more notes. I had a feeling something was not going to work but it went very well.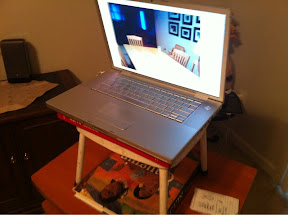 I sent a Facebook update asking for volunteers and got a lot of responses. It's good to have friends that are willing to drop what they are doing and help out.
Glenda read the narration. My son, Shawn read the part of James, Samantha was Lucile and Jerry played the villain, Larkin.
Everyone did a great job. The script is only 12 pages so it went pretty fast. After the read, we opened it up to questions and got some great feedback. I wanted them to read it out loud cold turkey because I wanted to hear the dialog without them having any preconceived notions, to see the if the dialogue works. For the most part it did, with a note here and there. I definitely feel like we are right there with the script.
While we finished up the read. My wife, Marianella went and scored us some awesome Peruvian food from Misti's. We all ate and drank and filled our bellies, making the night a great success.
Tomorrow, Rodney comes to the studio at 1pm, together with Chris, again via video chat, we are tackling the storyboards, which will be tough. I do have faith that between the three of us, we will figure it out. I am still trying to figure out how to get us all on a digital workflow and make everything as easy as possible.
Sometime in a future article, I'll write down the workflow, but that will be after I nail it down myself, as we are always trying out new apps and programs.
Pablo